The Advertising Division of the German Association for Advertising and Communication Sciences (Deutsche Gesellschaft fuer Publizistik und Kommunikationswissenschaft) is organising the international conference Under the Influence: A Comprehensive Look at Social Media Influencers in Cluj-Napoca, on October 6-8, 2022, together with the Faculty of Political, Administrative and Communication Sciences of Babeș-Bolyai University. Invited speakers from Austria (University of Vienna, Medical University of Vienna, University of Klagenfurt), Belgium (Catholic University of Leuven, University of Ghent), Germany (Ludwig Maximilians University of Munich, University of Tübingen, University of Würzburg), USA (University of Georgia Athens, Temple University, YouTube company) and Romania (SNSPA Bucharest and UBB).
The conference focuses on the topic of digital celebrities, online social media influencers and their advertising relevance. Presentations will deal with issues such as the effects of brand advertising in influencer marketing campaigns, the phenomenon of cyberbullying among digital celebrities, the social responsibility of these online opinion leaders, the fight against disinformation campaigns, green advertising, etc. The keynote speakers are researchers who enjoy international prestige thanks to their work on phenomenon of social media influencers and native advertising: Assoc. Prof. Liselot Hudders Ph.D. from Ghent University, Belgium and Assoc. Prof. Nathaniel J. Evans, Ph.D. from the University of Georgia, Athens, USA. The event is sponsored by Banca Transilvania, which will award prizes to the best papers presented during the conference.
The doctoral schools of Communication, Public Relations and Advertising and Political and Communication Sciences of the Faculty of Political, Administrative and Communication Sciences (FSPAC), in partnership with the doctoral schools in Communication Sciences of the University of Bucharest, of the National School of Political and Administrative Studies, of the Alexandru Ioan Cuza University Iasi, and of the West University Timisoara, are organising the International Conference of Doctoral Students in Communication Sciences on 9-10 June 2022. The event will take place in hybrid format, in rooms T1 and T2 at the FSPAC headquarters in Minerilor Street no.85 and on the ZOOM application. Participants are PhD students from Germany, Israel, Chile and Romania.


The special guest of this edition is Assoc. Prof. Sophie C. Boerman from the University of Amsterdam that will have a keynote speech on Algorithmic Persuasion. The conference includes thematic panels such as political communication, fighting disinformation, digital and social media communication, crisis communication, journalism and advertising. In addition to the panels, there will be information sessions on topics relevant to participants, such as publishing in scientific journals and preparing your thesis for publication after the thesis.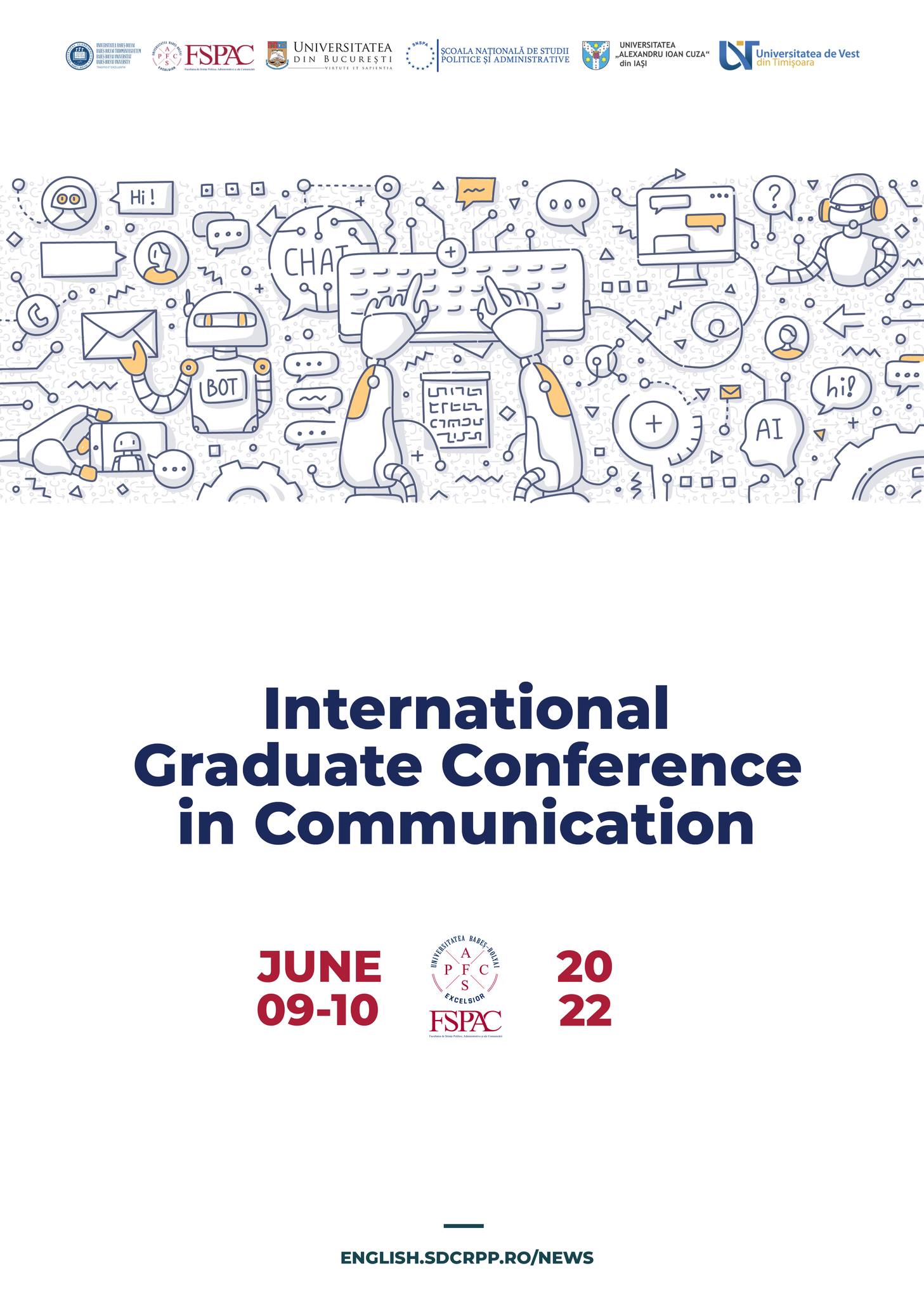 ---
International Graduate Conference in Communication
June 9th-10th, 2022
Faculty of Political, Administrative and Communication Sciences
Babeș-Bolyai University Cluj-Napoca, Romania
in collaboration with PhD schools in Communication studies from
University of Bucharest, National University of Political Studies and Public Administration, Al. Ioan Cuza University of Iași, and West University of Timișoara
The International Graduate Conference in Communication hosted by FSPAC - UBB (Faculty of Political, Administrative and Communication Sciences, Babeș-Bolyai University) in Cluj-Napoca invites Ph.D. students to share their research, including work in progress and parts of their theses. The conference is organized with the support of the Romanian Ph.D. Schools from the communication science field: University of Bucharest, National University of Political Studies and Public Administration Bucharest, Alexandru Ioan Cuza University Iași, West University of Timișoara, and Babeș-Bolyai University, Cluj-Napoca. The conference, which will be held in a hybrid format (if the pandemic situation allows a large part will be organized in person and in addition some presentations on Zoom) will provide a venue for discussing and reflecting upon the research efforts that graduate students in social sciences are currently engaged in.
A primary goal of this conference is to provide a stimulating and supportive interdisciplinary environment for discussing current research and planning future projects. The secondary goal is to encourage sharing and to examine ideas among young researchers, as well as to discuss methodologies, research topics, questions, and applications, with a consistent emphasis on their potential and limitations as inquiry tools for improving one's scientific work.
The conference will facilitate networking between doctoral students by offering the opportunity to exchange and expand ideas about academic work with their peers, and with experienced researchers.
Topics
Papers prepared for this conference should preferably try to address current issues in areas such as media communication; intergenerational communication; organizational communication and collaboration; social media; visual communication; health communication; communication and aging; (digital, native, and influencer) advertising; public relations, applied communication, digital media, data journalism and digital transformation in journalism.
The conference also welcomes contributions from other areas of research in communication, media studies, sociology, political and administrative sciences, and management.
In addition to the panels, workshop(s) on relevant topics for the development of the Ph.D. research will be delivered by international senior scholars.
Abstracts
The abstracts in English (max. 300 words followed by 3-5 keywords) should be submitted by April the 15th 2022 via email to phdconference@fspac.ro and will undergo a peer-review process.
Selected authors will receive confirmation via e-mail by May 13th, 2022, and should confirm participation by May 20th, 2022 also via email. The presentations should be 10-12 minutes long, with discussions taking place at the end of each panel.
Accepted presented papers will be published in the conference volume.
Fees & participation certificates
Participation in the conference is free. Participation certificates (.pdf files) will be sent via e-mail.
Important dates:
April 15th,2022 – abstract submission;
May 13th, 2022 – notification of authors and final schedule release;
May 20th, 2022 – participation confirmation;
June 3rd, 2022-final – schedule release;
June 9th-10th 2022 – conference and workshops.
Conference committee:
Prof. Delia Cristina Balaban, Ph.D., Babeș-Bolyai University
Prof. Camelia Beciu, Ph.D., University of Bucharest
Prof. Nicoleta Corbu, Ph.D., National University of Political Studies and Public Administration
Assoc. Prof. Ilie Fârte, Ph.D., Al. Ioan Cuza University of Iași
Assoc. Prof. Cristina Nistor, Ph.D., Babeș-Bolyai University
Assoc. Prof. Ileana Rotaru, Ph.D., West University of Timișoara
Contact
Please address any questions to Delia Cristina Balaban.
E-mail: phdconference@fspac.ro.
Workshop dr. Brigitte Naderer
In perioada 8-9 iulie 2019 in cadrul Scoalii Doctorale Comunicare Relatii Publice si Publicitate a avut loc workshopul Experimentul in stiintele comunicarii sub indrumarea doamnei dr. Brigitte Naderer de la Universitatea din Viena. Experimentul este o metode de cercetare utilizată des în cercetarea efectelor media și în publicitate. Realizat intr-o maniera practica workshopul a evidentiat toate etapele realizarii unui experiment de la designul de cercetare, la alegerea stimulilor, realizarea propriu-zisă și mai apoi la analiza datelor (de la simple teste t, la ANOVA la analize de moderare si mediere).
<
...
Workshop conf. dr. Claudia Riesmeyer
Scoala Doctorala Comunicare, Relatii Publice si Publicitate a organizat in data de 21 iunie un workshop despre cercetarea calitativa in stiintele comunicarii, avand ca invitat pe doamna conf.dr. Claudia Riesmeyer de la Universitatea Ludwig Maximilian din München, Germania.
CONFERINȚA DOCTORANZILOR FSPAC
SECȚIUNEA COMUNICARE, RELAȚII PUBLICE ȘI PUBLICITATE
În perioada 11-15 mai 2019 va avea loc conferinta doctoranzilor FSPAC. Școala noastră doctorală Comunicare, Relații Publice și Publicitate va organiza o secțiune în cadrul acestui eveniment. Cel mai probabil lucrările noastre o să fie prezentate miercuri 15 mai 2019 în sala T1 sau T2 din sediul FSPAC de pe str. Minerilor nr. 85.

Invităm doctoranzii din domeniul stiintele comunicarii să participați cu o prezentare care poate să cuprindă aspecte teoretice și/ sau aspecte empirice ale cercetării Dvs. Nu contează în ce stadiul sunteți cu lucrarea de doctorat, un feedback este întotdeauna binevenit. Spectrul tematic al conferintei este unul generos: comunicare interpersonală, social media, pr, publicitate, etc. In cadrul conferinței vom organiza panneluri în limba engleza și română.

Vă rog să trimiteti titlul prezentării Dvs. insotit de un abstract in limba engleza de max 500 de cuvinte prin email până la data de 10 aprilie 2019 către doamna Tabita Cadar la adreasa cadar@fspac.ro
Nu se percepe taxă de participare la acest evenient științific.
In data de 5 mai vom anunta programul evenimentului.

Lucrările finale destinate publicării trebuiesc trimise până în 30 mai 2019. Ele o să fie supuse unui proces de review, urmând să fie publicate în Journal of Media Research sau într-un volum colectiv.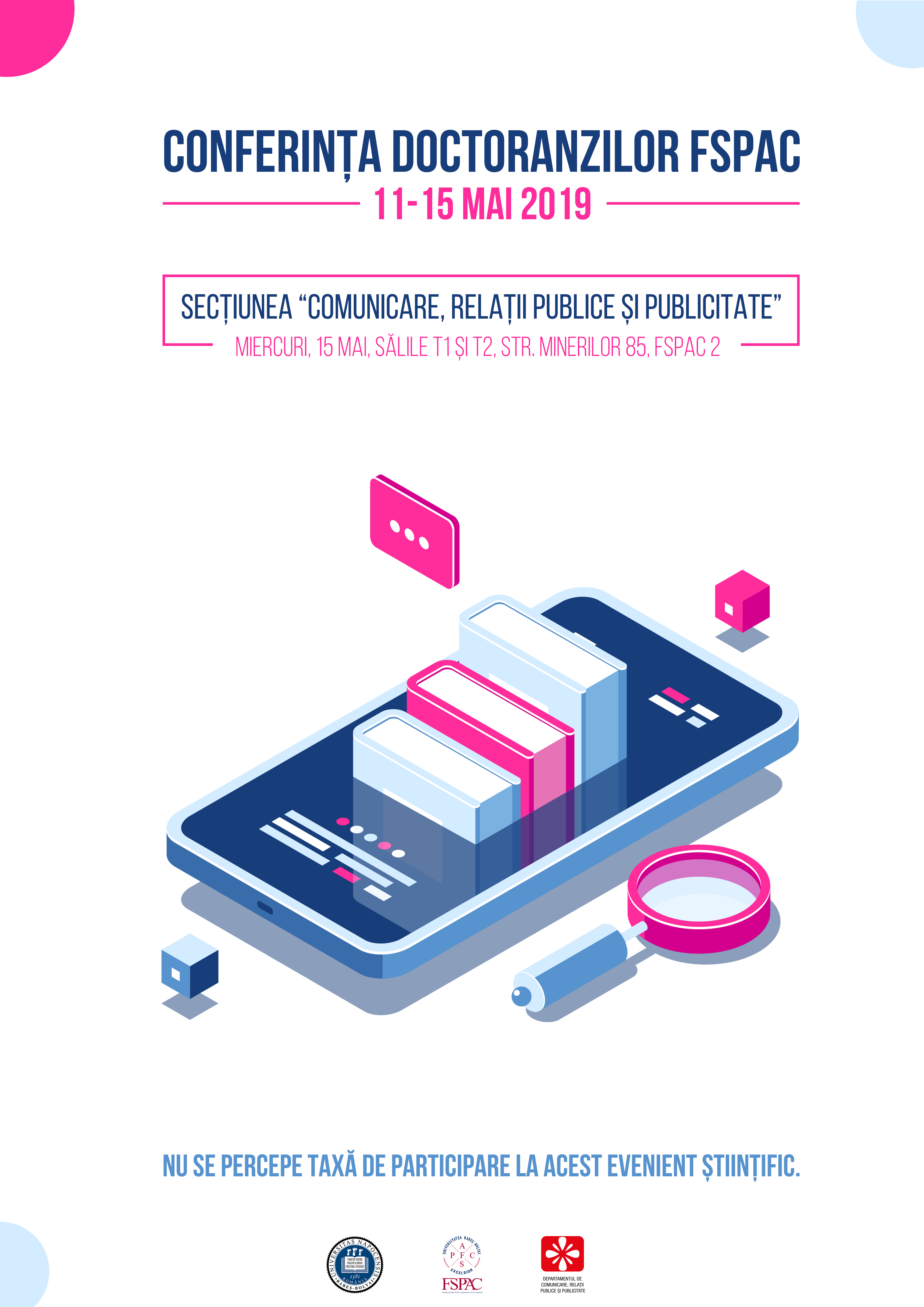 ABSOLVENȚI AI SDCRPP: ANDREEA VOINA
Titlul tezei de doctorat: Reprezentarea și discursul femeilor în politica contemporană. Studiu de caz: România și Statele Unite ale Americii

Perioada doctoratului a fost, de departe, cea mai antrenantă fază a dezvoltării mele intelectuale. Oportunitatea parcurgerii unui doctorat sub atenta coordonare a Prof. Sandu Frunză și generoasa îndrumare a Prof. Delia Bălaș și Prof. Ioan Hosu mi-a schimbat fundamental viziunea asupra cercetării. Conform experienței mele, strategia optimă în formarea unui viitor doctor constă în cultivarea apetitului pentru cunoaștere și încurajarea acestuia să exploreze toate căile posibile și (aparent) imposibile pentru a-și valorifica potențialul academic. Experiența doctoratului în cadrul acestei școli doctorale mi-a deschis oportunități de publicare, de participare la conferințe, de predare, de rafinare a ideilor alături de profesori și colegi și, nu în ultimul rând, m-a convins că nu există limite cu privire la ce poți realiza, odată ce îți propui un țel și îți concentrezi eforturile asupra îndeplinirii lui. Cel mai relevant exemplu în acest sens a fost obținerea unei burse de cercetare Fulbright, în cadrul căreia mi-am perfecționat abilitățile de cercetare și explorat sinele personal și academic.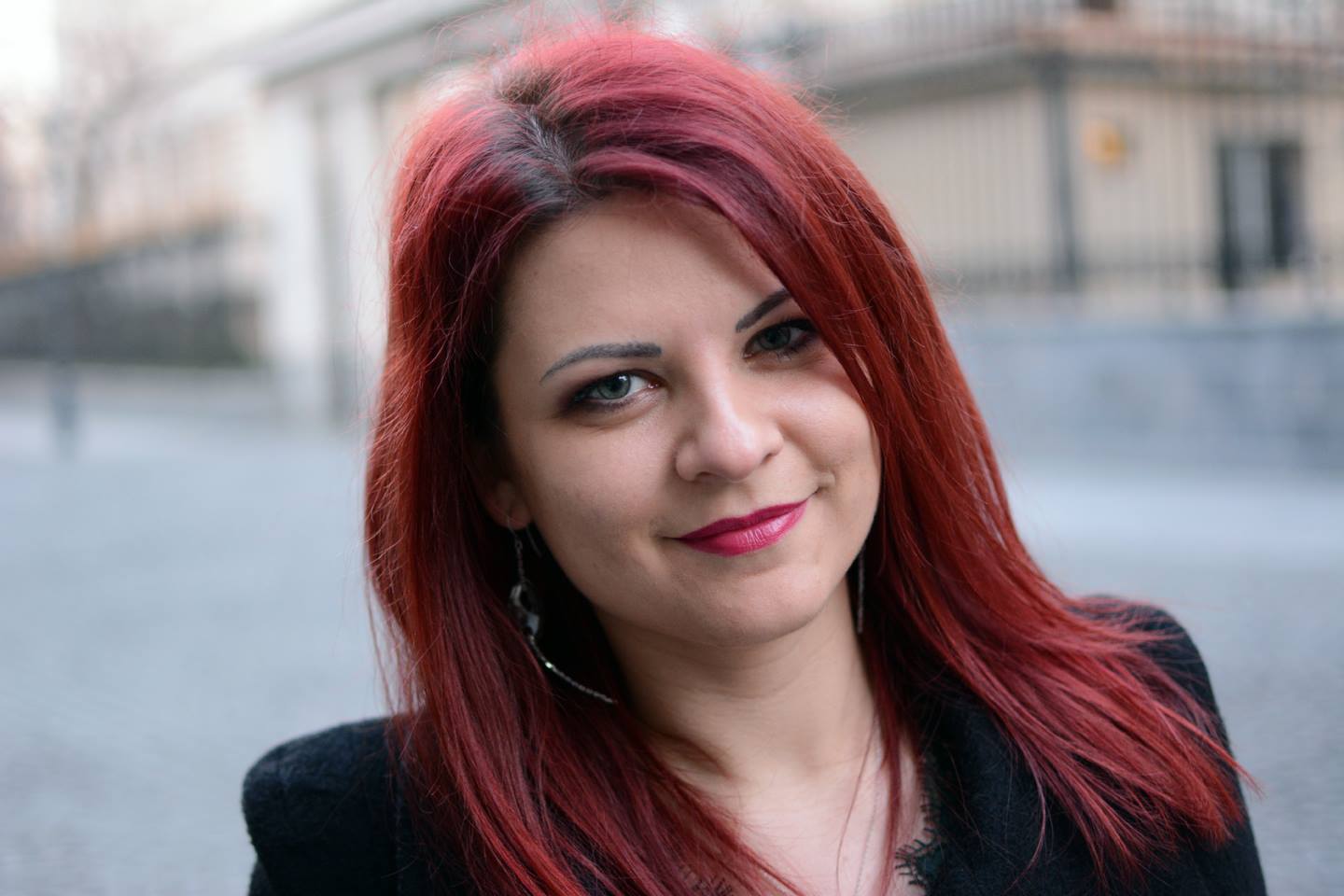 SUSȚINERE PUBLICĂ TEZĂ DE DOCTORAT
Astăzi ne-am bucurat de susținerea publică a primei teze din cadrul școlii noastre doctorale! Andreea Voina este primul nostru doctorand care a ieșit la rampă, sub privirile atente ale comisiei formate din: coordonator Prof. Univ. Dr. Sandu Frunză, Prof. Univ. Dr. Vasile Sebastian Dâncu, Prof. Univ. Dr. Delia Bălaș, Conf. Univ. Dr. Oana Băluță și Prof. Univ. Dr. Ioan Hosu. Îi dorim cu toții succes pe drumul ales!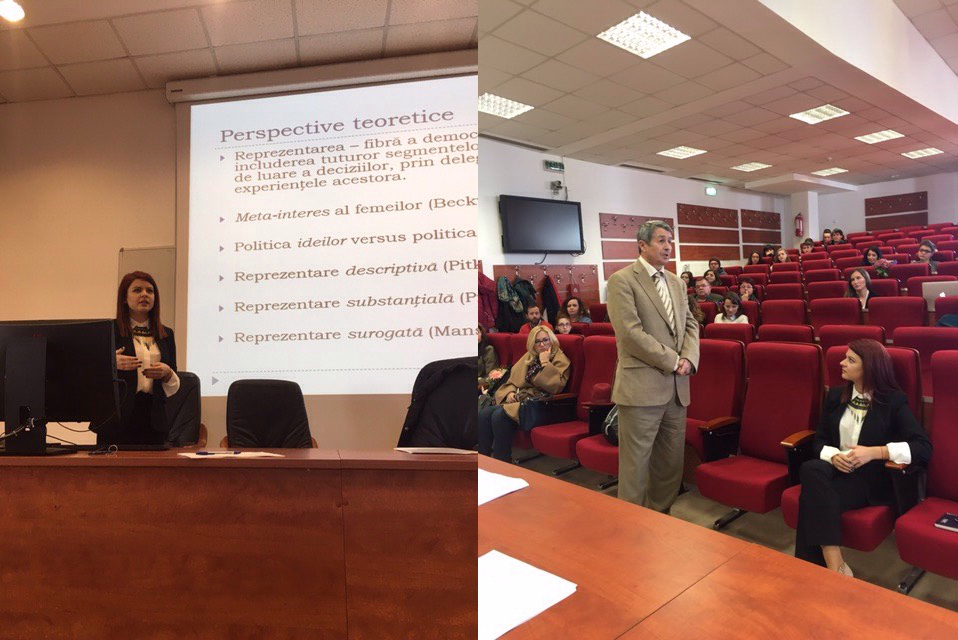 WORKSHOPUL ANUAL AL DOCTORANZILOR
Școala Doctorală de Comunicare, Relații Publice și Publicitate, cu sprijinul Fundației Hanss Seidel și în parteneriat cu Universitatea de Științe Aplicate Mittwelda organizează "Workshop-ul Anual al Doctoranzilor". Keynote speaker: Prof. Dr. Ludwig Hilmer. Luni, 23 Ianuarie 2017, sălile T1 și T2, începând cu ora 09:30.